I'm not kidding, this is an email I just got yesterday morning. And it was via my contact form, so it had to be a human being sending this to me. I added emphasis just to point out how special-needs this person is…
From: Dana Ariel <dana@thesalonoutlet.com>
Subject: Sponsored Blog Post in the Beauty Vertical – We Want You!

====================
Hi,

I came across your beauty blog matthewebel.com and really love your posts – honest, personal, and SUPER useful makeup tips that I know many women love too!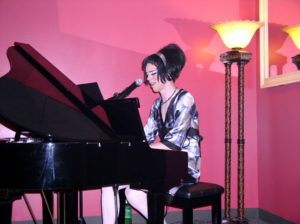 Okay… As you can see by the photo, I've done a gig in drag before… but it was one gig. In 2007. Since then, I'm not sure what, if anything, made this blog show up on that idiot's radar.
I lead all PR efforts for [redacted], a new online retailer for salon and makeup tools and equipment.
…not for long if THIS is your PR strategy…
For our big launch, we are partnering with the hottest beauty and makeup bloggers, so I'm reaching out to you to see if we could work together. Here are different ideas we have:

1) Sponsored Blog Post. We'd like to sponsor a blog post for you, in exchange for $20. I'll send you an article with photos – which of course you can personalize as you like.

2) Product Review. We'd like to send you a product, and in exchange, ask you to write up a review, with a link back to [redacted]. Can also be done in video form if you prefer.

3) Product Giveaway. You can host a contest for your blog readers and we'll send your winner a product. Our makeup brush sets would be great for this.
Item-by-item here:
Oooh, 20 whole dollars? Now I can do that European tour!
If you really want to promote your store with a video of a dude trying to put on makeup, I'll make this shit happen. Start mailing.
Nothing appeals to the Firefly cosplaying crowd like… makeup brushes. Yeah. Maybe if they're going for Inara or something.
We've got limited spots as we have several bloggers interested already, but after I saw your tres chic blog [really?] I wanted to see if you'd like to take advantage of this opportunity. Check us out at [redacted]. We're making final decisions by 4/27, if you can, please do respond before then. Looking forward to hearing from you!
For the record, it's 5/18 and I got this email yesterday.
Best,

Dana Ariel
dana@thesalonoutlet.com
Director, Public Relations | [redacted]
Dana-
You're the reason that a shrimp platter at the grocery store needs a big label that says "warning: contains shrimp."
Sincerely,
Matthew Ebel
Captain, UTF Revolution